DigiDocs, DigiForms & DigiSign
ProDBX's DigiDocs, DigiForms, and DigiSigns is a highly effective form of electronic documentation. With this app, you can send, receive, and transfer files quickly and effortlessly. DigiForms is the function which can be completely customized to your liking. Create your own forms and templates for all occasions and have them sign contracts using our DigiSigns. All in all, this app is designed to help you and your business operate.

Go Completely Paperless with ProDBX
With ProDBX's DigiDocs, DigiForms & DigiSign, you can go entirely paperless! You will no longer have to mail hard copies to your customers or to your employees. All documents stored through ProDBX can be accessed with permission through the internet on just about any mobile device!
Recreate your documents in a DigiDoc or DigiForm or create your own template

You can upload and insert photos into your DigiDoc

Have your clients sign electronically and watch as the document gets automatically sent to your database for record keeping
Fully Customizable Electronic Documents
Using our DigiDocs and DigiForms, you can create your very own forms to suit whatever situation you may need. Whether you need to send out an instruction manual or an informational flyer, you can do it all with ease using our app! Simply open up a new file or a document you want to edit and proceed from there!
Create your very own DigiForm for future use

Simply click and drag the fields marked with * around them onto your DigiForm to create spaces where your client can fill out

Type out any appropriate text in between the fields

If the field you want is missing, you can create your very own
Have Customer Information Automatically Entered Into Your Database
Information entered by your client through a DigiForm is automatically sent into your database! This eliminates the time spent manually entering the information yourself. As the client fills out a field, such as Customer Name, our app will create a profile with their name and any additional information if they do not have one already.
Your customer enters their information in a DigiForm received through email or some other method

The information entered automatically enters or "populates" your database

Saves time and effort by speeding up the customer registration process
Integrate with a Camera, Tablet or Smart Phone to Store Pictures
Using ProDBX's DigiDocs, DigiForms & DigiSign App, you can upload and store photos directly from your camera, tablet, and smart phone! This is especially handy when for those who work out of the office and need to take pictures for records or documentations. Simply upload the picture and send it out with a few clicks of a button!
Take a picture with your tablet, smart phone, or camera

Upload the picture into a DigiDoc or a DigiForm

Send the DigiDoc or DigiForm off or keep the photo for storage
Create and Embed Drawings Right Onto Your Document
Using our electronic documentation app, you have access to the SketchPad feature. This allows you to draw directly onto a DigiForm. Make sketches and drawings while you're out in the field and send them to your clients and employees with a simple touch of a button or keep them in the records. You can even insert images or maps into the document and sketch over it! Since our software is cloud-based, you can access this app wherever there is internet!
Make sketches or draw on a DigiForm

Upload a picture or an image and sketch over it

Send the sketch to your client or employees with a touch of a button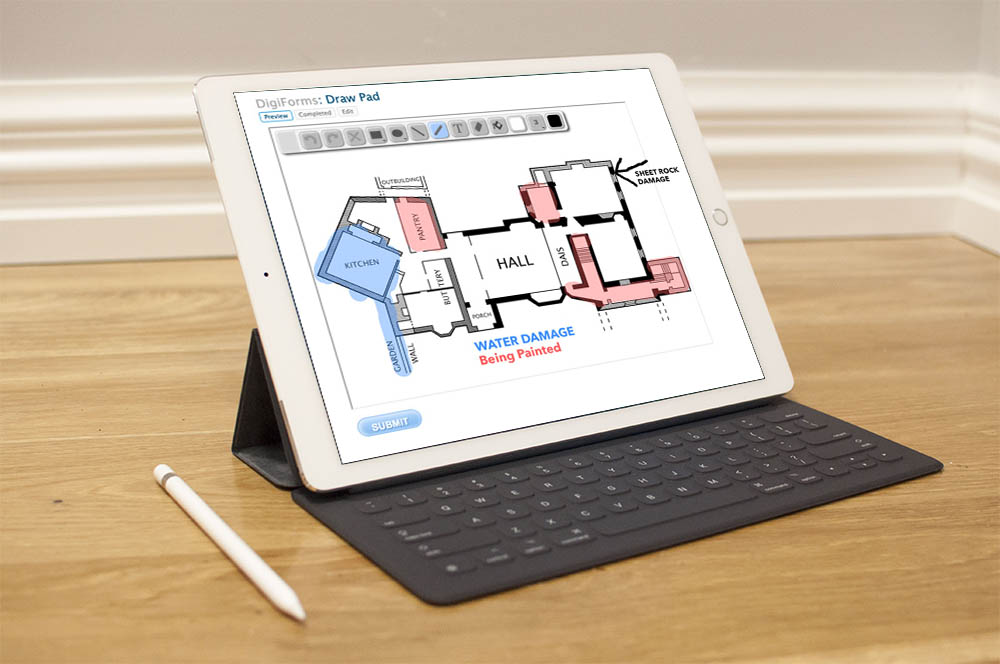 More Than Just Your Average Electronic Documentation Program
Take full advantage of the flexibility and power of this app! Our DigiDocs, DigiForms & DigiSign Apps offer much more than just text creation. It can be fully customized to suit all of your needs. Whether you are looking to make a professional, clean-cut document or an attention-grabbing flyer, this electronic documentation app can do it all! Explore all the wonderful possibilities our app has to offer!
In 2012, Chance Tyler, founder, was approached by an individual who was interested in using the software Chance had written. Over the years, Chance had owned various businesses, and he had extensive online marketing [...]
The software we provide here at ProDBX, runs in the cloud. Well, what is the cloud? The cloud is a network of servers that can be accessed all over the internet. Software and databases [...]
Life gets in the way every now and then, causing us to forget some things. The problem is, that excuse won't always slide as an Entrepreneur trying to establish a marking in Business.