ProDBX's enhanced Project Management automates your entire work-flow for even the most advanced projects. This app will provide you with a stress free method to manage all your projects based off accurate estimates to your clients. Easily track project progress in real time and automate the entire fulfillment process.
ProDBX Project Management is the most advanced and complete solution for your business.
Customize your dashboard to include any pertinent information or custom fields regarding your customers, along with their orders or jobs.

View each phase and open work order's progress, assigned user, and status.

Assign colors to each step to easy identify and track progress.
Organize Your Materials and Labor
ProDBX allows you to create and build custom sets which allow your sales reps to select from your full-range of options. When a set is added to an order or a job, ProDBX will automatically use all of your predesigned settings to create a visually appealing price quoting engine for your sales reps.
Create Material stock items for the products you sell or install.

Set your price per-unit, along with available vendors and their corresponding costs.
Create separate Labor stock items for each materials where installation or other labor is provided.

Designate if this labor is completed by an outside vendor or contractor, or by an in-house employee or ProDBX user.
Apply attributes for various colors, shapes, sizes, and other configurations for your materials.

Each attribute can be available from multiple vendors, and can either raise, lower, or keep the material price consistent.
Create Stock Sets to include one or more materials items.

Add corresponding Labor stock items to complete the set.
Create Complex Sets to include multiple Set items, along with additional Materials and Labor if needed.
Organize and divide Complex Sets based upon phases for ease of use while creating estimates.
Quick and Instant Estimating
Using ProDBX complex sets, your sales reps can build estimates in the field in a matter of seconds. Each predesigned complex set is converted into a visual step-by-step menu, with all price and cost calculations made according to overall quantity.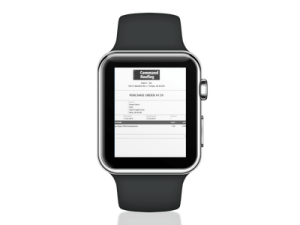 Once a complex set has been created and added to an order, our Project Management  app completely automates the entire fulfillment process – from correctly pricing and estimating costs on both materials and labor, to creating necessary purchase orders and work orders.
Customer pricing is updated, taking into consideration the quantity, along with all materials, labor, and attributes selected.
Estimated cost is calculated using current material, attribute, and labor costs.
Where available and when required, materials are fulfilled from in-stock locations.

Additional materials are ordered from various vendors based on pricing and availability, or ordered directly from a vendor for drop-ship or will-call.
Work orders are created and assigned according to default or selectable available ProDBX users.

Users receive their new work orders via text message or email.

Users login to ProDBX and update the status of their work orders, including a piece rate or percentage progress until 100% completed.

Customers receive email or text notification as to the progress of their work orders.
In 2012, Chance Tyler, founder, was approached by an individual who was interested in using the software Chance had written. Over the years, Chance had owned various businesses, and he had extensive online marketing [...]
The software we provide here at ProDBX, runs in the cloud. Well, what is the cloud? The cloud is a network of servers that can be accessed all over the internet. Software and databases [...]
Life gets in the way every now and then, causing us to forget some things. The problem is, that excuse won't always slide as an Entrepreneur trying to establish a marking in Business.