Timecards, Payroll & Commissions
ProDBX Timecards, Payroll & Commissions App includes all the tools you will need to efficiently track all of your employee and contractor hours, commissions, work order payments, receipts, and reimbursements. All 5 different forms of payments and payroll are reviewed and can be modified easily using our reporting interfaces, and either flow directly into the ProDBX Payroll system for employees, or into Accounts Payable for contractors and vendors.
Online Receipts & Reimbursements
ProDBX's online reimbursements system, part of the Payroll app, allows users to go completely paperless with receipts and expenses. Users simply use the ProDBX app to take a picture of the receipt, enter pertinent information, and then submit. Receipts are then instantly available for approval by a manager or payroll clerk, and all reimbursements are applied to the following payroll check. Receipts can be recycled, since ProDBX keeps all receipts stored in the cloud – eliminating lost receipts or the need to store receipts for years to come.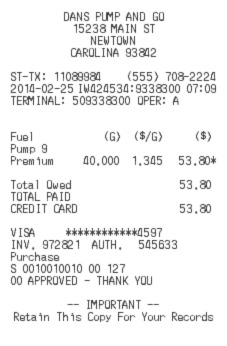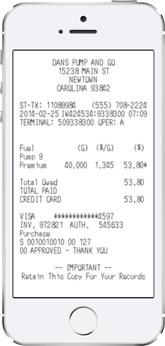 In the ProDBX app, take a picture of the receipt using a cell phone.

Enter required information for the transaction, such as a Job number.

Receipts are instantly sent to the ProDBX Payroll App for approval.

Company-card transactions are recorded, and reimbursement transactions are sent to each user's next payroll check.

Images and all transaction data is kept securely in the ProDBX cloud for tax purposes.
No need to keep physical receipts for tax purposes.

Instant submission of receipts.

Easily track expenses per job, order, customer, division, location, and user.
ProDBX Timecards & Payroll app includes an advanced timecard tracking system for all of your hourly employees.
Restrict users from having access to the database unless they are clocked in.

Seamless timecard integration with existing ProDBX users database.

Track time clocked in, break or lunch time, and clocked out time.

Job Costing: Time cards will be updated each time a user completes and begins a new job, recording time specifically to each job for precise job costing.

Review, add, and modify timecard transactions prior to authorizing for payroll.

Auto-calculate weekly overtime using your predetermined cutoff date, hours, and rate.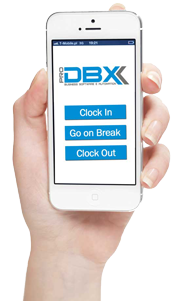 No matter how complex or simple your company's commission schedule may be, ProDBX can track and pay commissions for any job or order.
Designate a default percentage for each sales rep for the job total.

Specify if your users are paid commission at time of order delivery, job completion, payment in full, or at any point during the work flow (based upon completion of any materials or labor item).

ProDBX Commissions will display all suggested payable commissions. Input the pre-calculated or new commission rate, and commissions will be authorized for payroll.
Separate commission out according to job or order.

Designate a commission at completion of a project, at time of payment, or based upon completion at any point of any custom work order.

All commissions are approved and modified prior to submitting for payroll.
ProDBX Timecards & Payroll App easily handles payment of all work order payments to employees and contractors. At a glance, you can view all currently completed work orders.
Payments are sent directly to authorized payroll for employees, or are added as transactions for payments made to contractors or vendors.
In 2012, Chance Tyler, founder, was approached by an individual who was interested in using the software Chance had written. Over the years, Chance had owned various businesses, and he had extensive online marketing [...]
The software we provide here at ProDBX, runs in the cloud. Well, what is the cloud? The cloud is a network of servers that can be accessed all over the internet. Software and databases [...]
Life gets in the way every now and then, causing us to forget some things. The problem is, that excuse won't always slide as an Entrepreneur trying to establish a marking in Business.