It's nearly impossible to grow and organize your business today without an efficient CRM to organize and track all of your customers. ProDBX goes beyond the CRM with built-in apps that integrate directly with our cutting-edge, advanced CRM. Eliminate the annoying requirement of having multiple interfaces and software to run your business – and bring all of your work processes together with the most advance suite of business software. Best of all, you can customize it to your heart's content.
Search and Organize Your Database Effectively
ProDBX's powerful search feature is available from any screen, and performs a wildcard search on nearly every field in ProDBX, including all log and note fields. With this feature, you will never have to worry about being unable to find a particular customer data field. The information is easily accessible to authorized users.
Search through nearly every field in ProDBX, including all log and note fields

Sort and organize your customers

Waste no time in finding information and customers
Milestones
Using our Customizable CRM, you can set up milestones for certain events. These milestones can help with both marketing information and paying your employees commission. This integrates perfectly with our Timecards, Payroll & Commissions App.
Create a custom sales path for your sales process.

Create reports to display progress, conversion ratios, and track all of your customer's milestones at a glance.
Integrated Email
Our CRM System has an integrated email function. This means you can email your customers on the spot without ever having to leave the CRM database. Plus, it's also integrated with other email providers such as Gmail.
Integrated email with Gmail and other email providers

Create unlimited email templates for personalizing your communication, while saving valuable time
Integrated Text
With the Integrated Text function, you can send text messages and notifications directly from the CRM. You can even create your own custom templates to speed up the process.
Send text notifications and messages directly from the CRM

Create unlimited text templates to save time
Custom User Environments
ProDBX makes user environments a snap. Easily specify permissions based on specific users, or based on groups of users. As the administrator, you can also easily setup completely different environments for various users.
By determining their home page, menu options, access to documents and forms, custom dashboards, and turning on or off nearly aspect of our CRM.
And by simplifying your employee's environments, you will not only ensure that each user will only see and access what you give them access to – but each user will be able to work more efficiently and effectively.
User Alerts and Customer Information
ProDBX's CRM also gives you the ability to receive alerts through text or email whenever you or another user is assigned a customer. You can even customize the alerts to a specific customer. In addition, you can manage social media links for your customers within the database and track their addresses all on the same page.
Upload Documents Right Into Your Customer Database
Using our built-in functions, you can upload documents, whether it's an image or a form, directly onto your customers' information page. That way, you and all other users can view documents related to that customer.
Attach photos, PDF, and other files pertinent to specific orders and jobs

Store completed forms, contracts, and other DigiForms for each customer, job, and order
Create Detailed Custom Reports to See How You're Doing
Rather than offering a limited selection of rigid and pre-made reports, ProDBX allows you to create an unlimited amount of customized sales reports specific to your business. And data is always FRESH and real-time, unlike many CRM's which offer only static and scheduled reports based off of outdated data. Customize your reports to compare users and sales reps, referral sources, customers, or a variety of various time frame. Then choose from dozens of variables, fields, and values from live data. And our visually appealing charts showcase responsive hover-over for easily identifying numbers.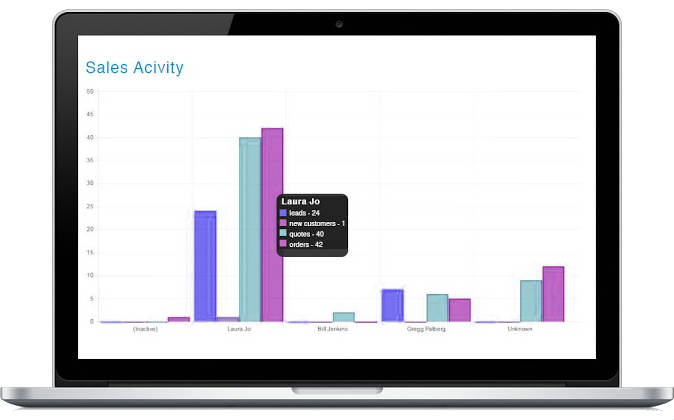 Create custom sales reports

Give users and groups access to view or modify reports with specialized permission

Track progress and develop new sales strategies
Other Features That Compliment Your CRM System
Over to the side are a few additional features and apps that compliment your CRM system very well. From managing tasks, improving email methods, to creating forms which automatically enter customer information into your database, ProDBX has plenty more to offer to make your business management much less taxing.
Using our

Task Management

, you can create tasks and deadlines for you, other users, and even groups

With our

Integrated Email

App, you can send emails to your customers right there on the spot without the hassle of having to leave the page

DigiForms

will automatically populate any information your customer enters

Track your leads and customers by referral source, with the ability to link directly to existing customers
In 2012, Chance Tyler, founder, was approached by an individual who was interested in using the software Chance had written. Over the years, Chance had owned various businesses, and he had extensive online marketing [...]
The software we provide here at ProDBX, runs in the cloud. Well, what is the cloud? The cloud is a network of servers that can be accessed all over the internet. Software and databases [...]
Life gets in the way every now and then, causing us to forget some things. The problem is, that excuse won't always slide as an Entrepreneur trying to establish a marking in Business.