ProDBX's Integrated Email offers all the functions you would need to market effectively and efficiently. From customizing email templates, to organizing recipients and sending out specified bulk emails, our Integrated Email app has plenty to offer and more!

Internal Emailing Makes Everything Convenient
Using ProDBX's Integrated Email App means marketing through emails becomes much easier! With the internal emailing function, you can send emails with documents and files pertaining to that client right on their informational page. Rather than having to look for information in a separate window, all the data on the client is right there as you begin to email. This makes emailing clients all the more convenient.
Send emails to your customers right on their information page

All the information on your customers is ready at your fingertips

Choose to send documents or use an email template
Add, remove, and organize customers within this list however you please
ProDBX's Integrated Email App is also geared towards helping out with your email marketing. With this app, you can specify what group of customers you want to send emails to through custom lists. Combine this with our URL Shortener App to find out how many clicks each link gets, in total and in unique.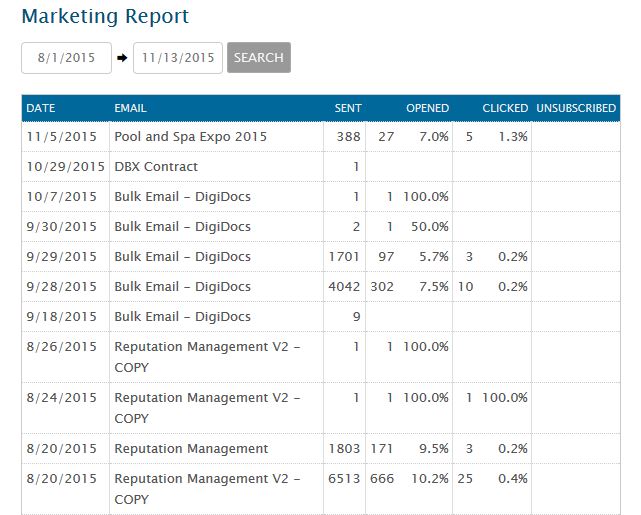 Choose which customized list of customers you want to send an email to

Use our URL Shortener to find out how well your links are doing

Get reports on how your emails are doing

Use the information to help you plan your marketing strategies
Create Your Own Template to Make Emailing Easy and Convenient
With ProDBX's Integrated Email App, you can create your very own template for future emails. Create and customize a template for every occasion so you can avoid the hassle of making new emails each time! All you have to do is create a new template by clicking on the + right next to Documents. From there, give it a name, select email as your template, click save and customize to your liking!
After clicking on the green plus sign, you will be prompted with a window like this. Then you can follow the steps below to create your very own email template!
Give your new template a name

Select the Email option to create a new email template

Click Save to begin your customization
From here, you can begin to customize your new template and tweak it to suit your specific needs!
Begin customizing your new template

Drag Data Form Fields, such as *email* or *firstname* from the left onto your template to populate information

Click Save in the bottom right once you are complete
After you have finished creating your brand new email template, you can now utilize it in future emails! Simply click on the email icon, select template, and from there, choose the template you wish to use. You can send certain emails with certain templates with just the click of a few buttons! What's more, you can even email the same template in bulk! This cuts down the time it would take to send off each email individually, helping you maximize efficiency!
Click on Template and select your desired template from the drop down menu

Send it off once you're ready!
Get Notifications About Your Emails
Our Integrated Email App will automatically notify you of when your emails were sent and opened. Not only that, you will also receive notifications on when a link or document was opened. This is helpful with marketing as you can find out what links or documents your customers are more inclined to click.
Send an email to a customer

Get a notification on when you sent it and when the customer opened it

Receive notifications for other actions, such as replies or link and document clicks
Customer Information from Emails Automatically Enter Your CRM
With the ProDBX Integrated Email App, you can have your customers input their information into emails you've sent out. From there, any information they enter will automatically enter your CRM's notes.
This allows you to gather mass data on your customers without the hassle of having to go in and entering their information one by one.
Send an email or bulk emails containing a DigiForm

Your customers fill out a DigiForm you send through email

The information automatically enters your CRM System
In 2012, Chance Tyler, founder, was approached by an individual who was interested in using the software Chance had written. Over the years, Chance had owned various businesses, and he had extensive online marketing [...]
The software we provide here at ProDBX, runs in the cloud. Well, what is the cloud? The cloud is a network of servers that can be accessed all over the internet. Software and databases [...]
Life gets in the way every now and then, causing us to forget some things. The problem is, that excuse won't always slide as an Entrepreneur trying to establish a marking in Business.